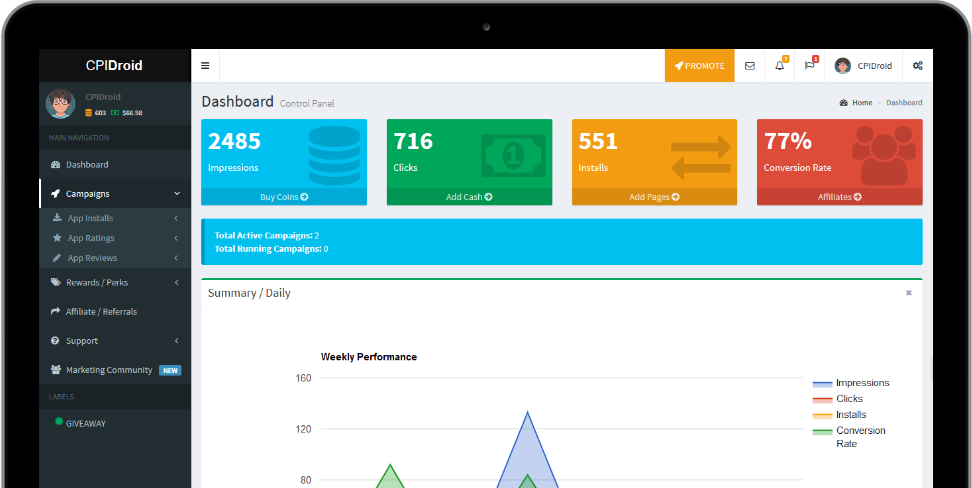 We are excited to announce that we have just launched a brand new Dashboard for https://CPIDroid.com which is very user friendly with tones of interesting new features.
New Dashboard Launched + iOS Coming soon!
We worked on a brand new dashboard. This dashboard is modern, user friendly and powerful with tones of new features.
We have introduced tons of new features (scroll down to explore) in this dashboard and soon you will be able to create iOS campaigns at our dashboard as well.
Not only this, but we have also reduced the pricing for app installs by 30 to 40% as compared to the old platform.
Major Platform Update!
We worked on the billing and campaign management sections of our dashboard to provide more reach, higher flexibility in campaign management and tracking, as well as more transparency for you. What's new?
Advertising Budget System:
To create more transparency we are introducing a budget-based system. Starting at a $10 minimum you can add a variable budget of your choice to your account balance.
Bidding System:
The bidding system allows to specify how much you are willing to pay per install. The higher the bid, the more volume you are able to get as the app's position in the offerwall is going to rise with the bid.
Managed Campaigns:
If you prefer to have your campaign managed by our team, you'll be able to create and follow these campaigns in real-time via our dashboard. We are able to drive larger volumes by accessing a large inventory of premium ad networks and publishers. Please reach out to your account manager to discuss your individual campaign setup to make sure we can get the most out of it for you.
Campaign Settings:
From now on it is possible to change campaign settings (budget, bid, country-targeting) when your campaign is already live. This will give you more flexibility to adapt during campaign flight dates. Additionally, you are able to specify your tracking link for third party tracking providers during campaign setup.
New Features Highlight
Now you will be able to choose your own budget for every campaign, while creating new campaigns you can use the slider to adjust your campaign budget and also you will be able to see the campaign overview such as campaign volume, amount of installs ...etc at the same time.
You can set CPI Bid for every Install you are willing to pay. More the Bid more installs you will get in less time. Similar to budget, you will also be able to adjust your Bid and also you will be able to see the campaign overview such as campaign volume, amount of installs ...etc at the same time
We are now offering three types of App Installs - Standard, High Retention & Managed.
User-friendly dashboard with easy to understand campaign stats / performance.
Change & adjust your Bid, Budget & Targeting, etc for running campaigns.
Buy VIP Membership to become our premium advertiser and get extra benefits and reduced pricing.
... and much more
Types of Installs
Standard campaigns, In this type of rewarded install, users are going to download and install your app in return for a reward. Depending on the selected tracking method users will also open the app at least once. When using third-party tracking providers install+open is guaranteed whereas for CPI Droid tracking - depending on the app type - opening the app is not required for the end-user. This type of install is the most cost-efficient one.
High Retention campaigns require users to keep your app for 3 days. Any user who uninstalls sooner won't count as conversion, so the total number of installs delivered will be above your campaign volume. HR campaigns come with extensive statistics and don't require any SDK.
Managed campaigns are the way to go if you need to push large volumes in a short time. Please keep in mind that the actual performance depends on your bid, so make sure to contact your account manager before creating a managed campaign. Managed campaigns cannot be paused or terminated by yourself and are managed by CPI Droid.
SignUp Now to Get FREE Access to our All in One Digital Marketing Platform!
We will continue to update Front; if you have any questions or suggestions, please contact us!
Follow us on Facebook, Instagram, Twitter, Pinterest, Linkedin, YouTube, and Medium.

Written by
I create advanced website builders made exclusively for web developers.
3 Comments

As a Special Education teacher this resonates so well with me. Fighting with gen ed teachers to flatten for the students with learning disabilities. It also confirms some things for me in my writing.
Reply

Love it Dave! We're all about keeping it up.
Reply

Maria Muszynska
2 days ago
Since our attention spans seem to be shrinking by the day — keeping it simple is more important than ever.
Reply
Post a comment
Stay in the know
Get special offers and the latest news updates from CPIDroid™.